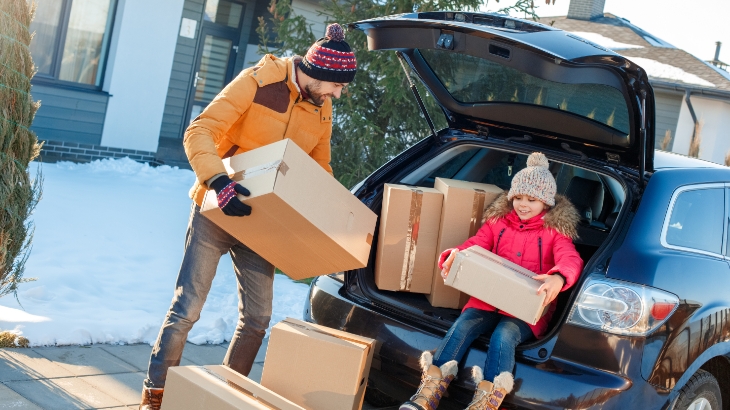 Tips From Our Downtown KC Apartments on How to Have a Seamless Transition
Moving is both an exciting and stressful time.
A new space, a new neighborhood, and potential new friends await you at your new downtown Kansas City apartment community. Moving is a new journey that is worthy of celebration. But it's also stressful and difficult to navigate.
To feel more prepared for moving day, avoid obstacles and problems by taking our advice. Here at The Grand, we know a thing or two about moving into luxury apartments in Kansas City and are here to help you enjoy a peaceful move.
Follow these steps to be as prepared as possible for your transition to our downtown Kansas City apartments.
Be Detailed In Your Packing
If you've moved before, you know how valuable it is to save time during the packing process. Small steps during your preparation can make the difference between a memorable moving day and a disaster.
When packing, set yourself up for the best move possible by remembering these important tips.
Label Everything: Keep a marker handy as you pack and label every box, tote, or container. You can be as descriptive as you want; the more you include on the box, the easier unpacking your apartment will be. At a minimum, write the name of the room the box should be put in.
Lighten Your Load by Donating: As you pack your belongings, take note of what you have and don't use. Moving these items is just extra weight! Instead, designate a box or two as a place for items you plan to donate or sell. This process will help you keep your downtown Kansas City apartment as clutter-free as possible, right from the start.
Complete All Exit Requirements With Your Previous Apartment
Fees, balances, and other housekeeping tasks to settle with a former residence can be time consuming and stressful when you're trying to get moved. Get all of your business settled with your previous apartment before heading to your luxury KC apartment for good.
This step can include tasks like:
Giving proper written notice to your landlord per your lease agreement.
Cleaning and restoring your living space (especially if you're moving out of a "pet-friendly" apartment, many will charge extra for pet cleanup.)
Returning your keys.
Completing a walk-through with your property manager.
Following each step by the book can help you ensure you get the entirety of your security deposit back. Who doesn't want extra cash for moving day?
Set Up All Of Your Services Before Moving Day
It is always important to confirm what utility services you are responsible for managing and arrange their connection or transfer before your moving day. Your luxury Kansas City apartment or executive suite feels a lot less homey without electricity, and Internet. Additionally, make sure all of your services are disconnected or transferred from your previous place as well.
Once you have a clear picture of the services you are responsible for, select your providers and set activation dates before your moving day. You want your services ready and waiting for you when you arrive.
Hire Professional Movers
Movers can be expensive, but they help make your move much more seamless. Hiring movers allows you to focus on the important details of your move, leaving the heavy lifting to the professionals.
Make sure to select movers that are highly rated and insured in case an accident happens. You don't want any of your belongings to be damaged or lost in transit.
Make Your Move to The Grand Today!
Here at The Grand, we look forward to meeting you and showing you around. Even if your move doesn't go perfectly, you'll have options to let off some steam at your new downtown Kansas City apartment community by relaxing with the amenities we offer our residents.
Pets Are Welcome: Our pet-friendly apartments include a private washing station and dog park to make your furry friends feel welcome.
The Elevation Pool and Lounge: Our rooftop pool features outdoor TVs and grilling areas – for warmer weather only!
Digital Sports Lounge: Digital gaming options galore, including a digital sports simulator.
Theater Vault: Enjoy your favorite movie on a big screen from the comfort of a cozy couch.
We offer executive suites and one- and two-bedroom apartment floor plans, so you can move in and make The Grand your home this winter. Take a 3D tour on our website, or reach out to us to schedule a tour in person. We're excited to meet you!