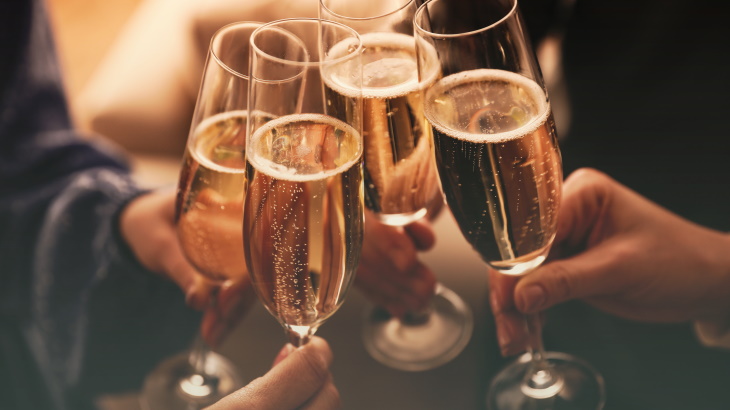 Your Downtown Kansas City Apartment Grants You Access to Useful Venues
Holiday season is a great time of year! So much to celebrate, so many reasons to be happy, and opportunities to spend time with friends and family abound. Many of us will attend or host a Friendsgiving, holiday party, gift exchange, or some other form of celebration. At The Grand, it is actually easier than ever for members of our community to host their holiday events without the stress of preparing their apartments for guests.
The Grand doesn't just give our residents luxury apartment living; we also want to offer opportunities to immerse them in a luxurious lifestyle.
What say luxury like hosting or attending your next holiday event right at home in your downtown Kansas City apartment community? We don't know if anything does.
Let's take a look at the reasons you need to reserve a community space for your next event!
1. Community Spaces Are an Included Luxury Apartment Amenity for Residents
Deciding to live at The Grand grants you access to many luxury apartment amenities, including the opportunity to reserve the community spaces throughout the community. Don't pay for an event space or cram into your executive suite or someone else's one-bedroom apartment when you have access to a big room that fits your party – totally for free. It's just as simple as reserving the room.
If you think that's nice, you'll flip about the other amenities that are available to all members of our luxury apartment community. Some of the other perks our residents enjoy include:
Places Just for Pets: Our pet-friendly apartments even offer a private washing station and dog park to make your furry friends feel at home.
The Elevation Pool and Lounge: Rooftop pool that features outdoor TVs and grilling areas for you to relax by the water and unwind with a view of beautiful downtown Kansas City.
Digital Sports Lounge: Featuring a digital sports simulator, amongst other digital gaming options, ideal for when winter weather impedes your athletic endeavors.
Theater Vault: Cushy couches create the perfect atmosphere for watching your favorite movie.
2. Community Spaces at Our Downtown KC Apartments Take the Pressure Off to Host
Does anyone really enjoy hosting? Having a lot of people around is fun and spending time with friends and family can be a good time, but when it is in your space, there's so much more to the event.
The preparation of cleaning, decorating, gathering materials, cooking, and other steps you have to take can be so exhausting that you don't even really enjoy the party. That's not even mentioning the clean-up process as well long after all the other guests are comfy and sleep in their beds.
Don't put yourself on the hook for all of the hassle that comes with hosting if you don't have to. Reduce the stress of finding ways to fit everyone in your apartment and reserve a community space so no one has to invade your privacy.
3. Our Downtown Kansas City Apartment Location Is a Huge Perk
If you've been to many holiday parties, you know that some can get rowdy and will put a capital "P" on party. If you're planning on an extra-fun night that doesn't just end with your party, what better place to start than in a downtown Kansas City apartment building?
We're minutes from all of the nightlife action in downtown KC, and you and your friends can make memories for years to come here at The Grand and wherever else the night takes you from there. We love being close enough to the action that any of our residents could have a great time on any given night out of their luxury apartment by visiting the Power & Light District, Plaza, and more.
4. You Live Here. Stay Home at Your Luxury Apartment Building for Your Party
Of course, if you live at the Grand and your holiday party is in one of our community spaces, you're basically celebrating at home without all of the stress of hosting. Suggesting to hold your event at the Grand is actually beneficial to all other guests, but it will also be a major W for you if you're able to just walk right home without even having to brave the winter cold. Stay home this year while still upgrading your party experience.
Is The Grand Your Next Luxury Apartment Home and Venue?
The Grand should be on your radar if you're looking for luxury apartments in downtown Kansas City. Our executive suites, one-bedroom apartments, and other floor plans offer something for every lifestyle. Take a tour on our website or contact us to schedule one in-person.