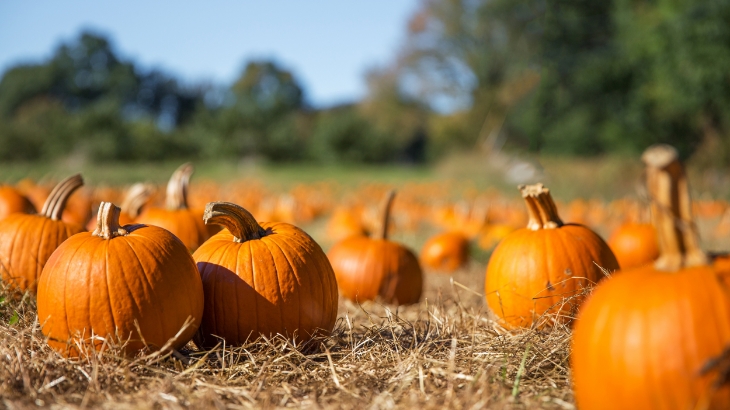 Get Out of Your Executive Suite or 1-Bedroom Apartment and Enjoy Seasonal Fun
Looking for something fun to do this fall around your downtown Kansas City apartment? You're in luck! Not only are there plenty of options to choose from, but we're about to give you a cheat sheet with some of our favorites.
No matter if you're into pumpkin picking, getting spooked, or enjoying activities with your community, your luxury apartment in Kansas City is near any activity you'll enjoy.
Want a Jack-O-Lantern in Your Executive Suite? Pick Your Own Pumpkin Around the City
Because your luxury apartment is in downtown Kansas City, it can be easy to forget you're still in the heart of the Midwest. You get the best of both worlds when you live at The Grand, so take a short drive outside of the city to find plenty of fall harvests. Pumpkin patches are ready for you to select the perfect pumpkin to carve in your one-bedroom apartment.
Consider these nearby options.
Faulkner's Ranch and Pumpkin Farm (Kansas City, MO) – Closest to The Grand at just under a 20-minute drive, Faulkner's has over 25 attractions to enjoy while you pumpkin hunt.
KC Pumpkin Patch (Olathe, KS) – Over 50 farm adventures, food stops, and a winery await you and your friends this fall on a trip that's a little over 30 minutes from The Grand. Be sure to stop at KC Wine Company on the way.
Carolyn's Country Cousins Pumpkin Patch (Liberty, MO) – Pick pumpkins, shop for souvenirs, and feed bunnies, goats, and more at this farm about 25 minutes from downtown Kansas City.
The Pro Sports Games Get So Crazy in Kansas City, You Might Hear Them from Your Downtown Kansas City Apartment
Kansas Citians love to support their sports teams, and the fall brings that into full swing with the Kansas City Chiefs. You'll see artwork and murals popping up around the city to show support, but going to games is part of the culture of KC. Don't forget the other professional teams, too.
Check out a game at one of Kansas City's stadiums near your luxury apartment.
Arrowhead Stadium (Kansas City Chiefs) – Just over 10 minutes from our apartment community, the Chiefs are one of the hottest tickets in town!
Kauffman Stadium (Kansas City Royals) – Neighboring Arrowhead Stadium, Kauffman is another great park to enjoy a fall night with your friends, especially if the Royals make it to the playoffs.
Children's Mercy Park (Sporting Kansas City/Kansas City Current) – Soccer has rapidly made its way to the forefront of the sports culture in Kansas City. Drive 20 minutes to a Sporting KC game and sit in the "Cauldron" for a unique game-watching experience. Also, catch the Current here before it's too late, as they will be moving into a groundbreaking new stadium very soon, adding another great place to watch a game near your executive suite.
Feeling Spooky? Our Downtown KC Apartments Are Close to Haunted Attractions
As some friends get together and sip cider, have a chili cook-off, and carve pumpkins during the fall, there are some that seek different thrills. Kansas City is the right place to be if you want haunted experiences.
Nicknamed "The Haunted House Capital of the World," Kansas City offers many unique and historic haunted houses for anyone in pursuit of something spooky, just a short drive to the West Bottoms neighborhood. Purchase a multipass ticket for maximum scares!
The Edge of Hell – Only a mile and a half away from The Grand, this is the most historic and long-standing haunted house in Kansas City. Open since 1975, The Edge of Hell pioneered the open forum style of haunted house that allows the visitors to make their own way through its many horrors. It's a must-visit if you want to be scared.
The Beast – This is another staple just a 6-minute drive through downtown Kansas City from our luxury apartments. Another well-established option, The Beast is always rated as one of the best haunted houses in America thanks to its top-notch special effects, creative settings, and story-telling.
Macabre Cinema – Macabre Cinema features scary characters you'll recognize from your favorite horror films in four stories of a historic movie theater.
Not Close Enough to the Action In Your Current One-Bedroom Apartment? Come Join Our Community at The Grand!
If you want to get more central to the action of downtown Kansas City this fall, The Grand should be your number one option. We offer many different floor plans to fit the needs of residents, so you can be sure we have a layout that works for you, roommates, and even your pet. Yes, you read that right. The Grand is a pet-friendly apartment community that welcomes your furry friends into luxury living downtown.
What are you waiting for? Contact us today to schedule a tour of our community and see why The Grand is your next home.