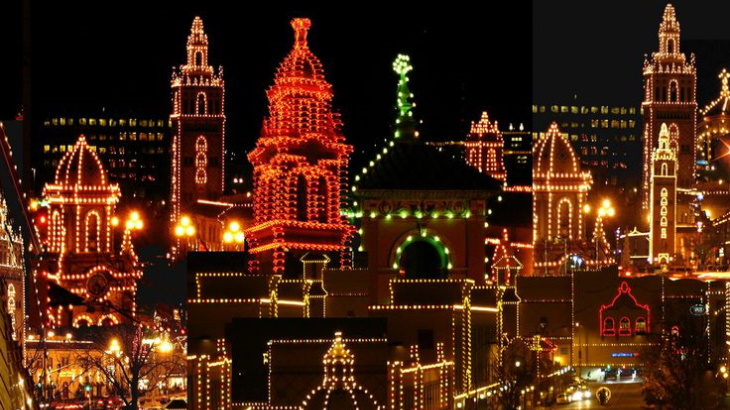 Have Some Fun Outside Your Executive Suite This Holiday Season
The most wonderful time of the year is upon us! Kansas City is always on fire with holiday spirit as Christmas and the holiday season approaches. Holiday cheer takes over the city, and many opportunities to celebrate with your family and friends arise all around. Kansas City is pretty spread out in these events, but residents of our downtown Kansas City Apartments are at a perfect location to enjoy as many lighting displays and shows as their heart desires.
When you get out of your executive suite or one bedroom apartment for a nice holiday experience, your options near our downtown Kansas City apartments are so abundant that it may be overwhelming to choose. We narrowed down some that we thought would be most worth your while:
Country Club Plaza Lighting Ceremony (November 24, 2022): This has been a Kansas City staple for decades and the spectacle has continued to grow as the Country Club Plaza has done the same. On Thanksgiving night, thousands of Kansas Citians and their families flock to the Country Club Plaza downtown for a lighting event featuring live music, giveaways, activities, and more. One of KC's most famous people will flip the switch to 80 miles of beautiful lights that light up the sky near our downtown Kansas City apartments well into the new year.\
Mayor's Christmas Tree Lighting: Another historic Kansas City tradition that is less than 2 miles from our downtown Kansas City apartment building. The Kansas City Chorale provides a performance and the Mayor and other special guests bring in the lighting of the huge tree. For reference, the tree that Mayor Quentin Lucas lit in 2021 stood 100-feet tall and used over 48,000 LED lights, 900 ornaments, and 300 bells. This is a tree you'll want to see in person, especially since the event is free to the public.
Holiday Light and Magic: You have to drive over the bridge to Kansas near the Legends for this one, but we promise it is worth the drive. A newer exhibit, Holiday Light and Magic packs in fun and originality what it lacks in history and tradition in Kansas City. More than 100 active light displays make up this unique experience. See Christmas themes you've never seen before like snowboarding Santa, elf construction company, Christmas in space, dinosaur reindeer, and more at this one of a kind holiday light event.
Never Miss The Holiday Action When You Live At Our Downtown Kansas City Apartments
We take pride in the location of our downtown Kansas City apartments, but location is far from the only benefit you have as a resident of The Grand. Enjoy these other perks when you live here as well:
Pet Friendly Apartments: Your pets are welcome at The Grand! We add to their living experience with a private washing station and dog park to make them feel at home like you do.
Elevation Pool and Lounge: Our rooftop pool features outdoor TVs and grilling areas for you to take a load off and relax by the water.
Digital Sports Lounge: If you're a gamer you will enjoy this room that features a digital sports simulator and other digital gaming technology.
Theater Vault: Watch your favorite movie on the big screen, while enjoying the cushy couches.
Fitness Center: When you live at our downtown Kansas City apartments you can save money on an expensive gym membership and utilize our 24-hour fitness center with top-of-the-line equipment. We also hold group fitness classes with other residents.
Guest Suite: If you and your guests feel cramped when you have visitors, feel free to take advantage of our fully-furnished guest suite. This is a perfect living space for your guests to get privacy and comfort, while also being closer to you than if they got a hotel.
The Grand should be your top choice if you're looking to rent a downtown Kansas City apartment. Our executive suites and other units come in many different floor plans that fit most needs. You can take a tour of our executive suites and other apartments online or in-person at our community. Contact us to get your tour scheduled and see why The Grand should be your next place of residence. If you already know The Grand is your next home, apply online today to get your transition to luxury downtown Kansas City living started as soon as possible.