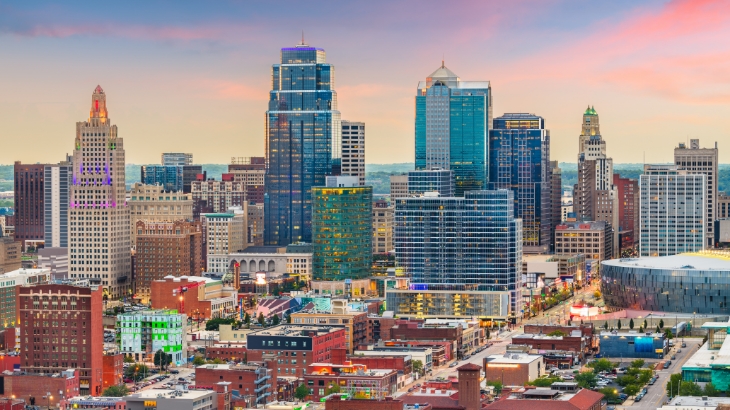 Our Downtown Kansas City Apartment Community Has Amazing Penthouse Apartments For Rent
It's no secret how much we love Kansas City – and not only because we feel obligated to as a downtown Kansas City apartment complex. Kansas City is beautiful and has a lot to offer from a scenery and activities perspective. Our penthouse apartments give you the opportunity to live in that reality everyday.
The downtown Kansas City apartments at The Grand provide a unique and lavish living experience. A penthouse apartment would take that experience to another level and offer many exclusive benefits that tenants in our other units don't have, like a massive outdoor patio and extended square footage.
Why Live In A Penthouse Apartment?
The penthouse is the highest point of an apartment building. It is usually more spacious than other units and almost always offers amazing views. This makes the penthouse apartment one of the most sought after units of any building. Because of this demand, it is very rare to find an available penthouse apartment, and you must act fast if you find one available and are interested in luxury at the highest level.
At The Grand, the penthouse is different from any other highly-sought penthouse apartment. Our penthouse apartments embody luxury and offer many perks you just don't otherwise have access to:
Stunning Views of Kansas City – Always the biggest perk of the penthouse apartment anywhere you go. You'll be able to see Kansas City like you never have before. And the best part? You get to do that every day as long as you're living in one of our penthouse apartments at The Grand.
Balcony Access – The Grand knows you value that fresh air, and you will be treated to an outdoor terrace that is exclusive for penthouse tenants.
Spacious Apartment Design – Our penthouse apartments at The Grand are spacious and comfortable. The floor plans allow residents the space they need to spread out and feel at home. You can't have a relaxing atmosphere like a penthouse and be stressed about space.
Our Downtown Kansas City Penthouse Apartments Are Ready To Treat you To Luxury
Once you come out of your penthouse and join the rest of the community, you'll be happy to know that your luxury living experience stretches throughout our community. We have several amenities that will enhance your living experience at The Grand:
Your pets are always welcome at The Grand: Our pet-friendly apartments conveniently include a private washing station and dog park to make your furry family members feel right at home.
Elevation Pool and Lounge: Rooftop pool that features outdoor TVs and grilling areas for you to relax by the water and unwind with a view of beautiful downtown Kansas City.
Digital Sports Lounge: Featuring a digital sports simulator, amongst other digital gaming options.
Theater Vault: Cushy couches create the perfect atmosphere for watching your favorite movie.
Resident Events: Meet other members of our community at our resident events, reserved only for our tenants to build relationships and strengthen our community. Birthday celebrations, speed dating, Taco Tuesday, and more are going down right in your backyard.
Guest Suite: Don't feel like you have room for visitors to be comfortable? We've got you covered! Our fully-furnished guest suite is a perfect temporary living space that allows your guest privacy and comfort. People will love visiting you at The Grand!
Fitness Center – No need to buy an expensive gym membership to reach your fitness goals. The Grand grants you access to a 24-hour fitness center that has top-of-the-line equipment. You also can join a group fitness class with other community members.
Don't Miss your Chance At A Penthouse Apartment At Our Downtown Kansas City Apartment Community
The Grand should be your top choice if you're in Kansas City exploring luxury apartments. Choose from a wide range of floor plans that fit many different living space needs. Take a 3D tour on our website or, better yet, take an in-person tour of our community. Get in contact with us to get one scheduled! We're always excited to meet potential tenants and show them the community they could be a part of.
Get your transition started sooner by applying online if you know The Grand is the place for you. Our penthouse apartments fill quickly, so be sure to act fast for your chance at luxury, downtown Kansas City living.