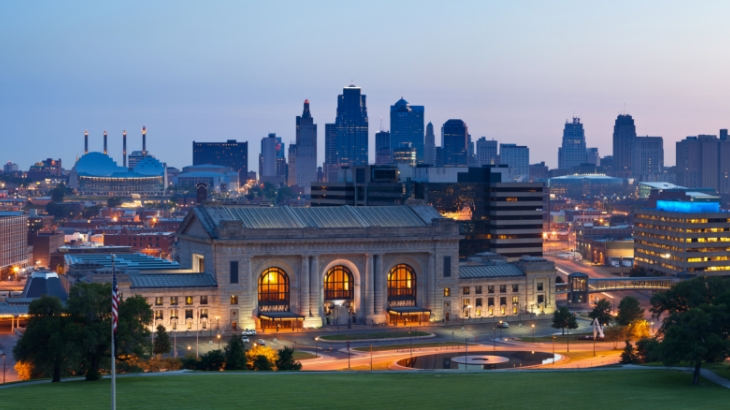 Sightseeing Staples That Are Easily Accessible From Our Downtown Kansas City Apartments
One of the perks of living at The Grand is the location. Our downtown Kansas City apartments sit right in the middle of downtown Kansas City, otherwise known as a hotspot for entertainment and fun with seemingly something new to explore everywhere you turn.
There are so many things to see and learn in downtown Kansas City that we wanted to highlight some of the best of the best to help you round out your plans for the rest of the summer, all of which are easily accessible from your apartment here at The Grand.
1. History and The Arts
Our downtown Kansas City apartments are in the same neighborhood as many outstanding museums and art exhibits. Be sure to add these museums to your list:
National World War I Museum & Liberty Memorial
American Jazz Museum
Negro Leagues Baseball Museum
Arabia Steamboat Museum
Money Museum
Nelson-Atkins Museum of Art
Kemper Museum of Contemporary Art
National Museum of Toys & Miniatures

As far as the arts are concerned, Kansas City has plenty of districts and attractions to explore highlighted by the Crossroads Art District, the Kauffman Center for Performing arts, and The Starlight Theatre.
2. Country Club Plaza
This is the best shopping district in Kansas City, bar none. But what makes the Country Club Plaza so special is that it isn't just a mall, or just a place to eat, or just a place to see cool architecture.
Endless shops, upscale dining, and unique architecture collide to create a 15-block stretch that defines what Kansas City is all about. Walk the Plaza, and take in the early 1900s Spanish architecture, or the beautifully sculpted fountains of all sizes.
Not too many luxury apartments near you can boast being so close to such a gem of an area that you will want to keep going back to for shopping, dining, events, concerts, and more. That's just one reason The Grand is different.
3. Union Station
A true Kansas City treasure that's only a little over a mile away from our downtown Kansas City apartments, Union Station is a converted train station that has been kept up beautifully and still stands as one of KC's best places to visit.
Union Station is free to enter and explore, but once inside you'll notice there's a lot to do and see that may cost you a bit, like the IMAX theater, Planetarium, and Science City Museum.
4. Crown Center
One of the great places to hang out with family and friends, Crown Center is another downtown gem that holds some pretty cool attractions inside. Sealife is an aquarium that houses over 5,000 sea animals and has multiple interactive elements that keep the whole family engaged.
Sealife neighbors the Legoland Discovery Center, which opens your family up to all things LEGO and has immersive elements like rides and play areas. Stretch your family's imagination with the endless possibilities at Legoland.
Additionally, Crown Center has restaurants, stores, unique shops, a theater, kids activity spaces, and even an ice skating rink. You're sure to be able to have a fun-filled day at Crown Center. Step out of your executive suite and take a mile stroll up Grand to check one of Kansas City's most-frequented attractions off your bucket list.
5. River Market
Another great Kansas City shopping district is the River Market area. All of Kansas City's shopping districts and unique areas offer their own flavor. At the River Market, you can eat cuisines from all around the world, shop in small and unique boutiques, and even visit the Steamboat Arabia Museum.
Perhaps the biggest attraction of all, the River Market is home to the largest farmers market in the region. You can find all kinds of unique produce and crops for your favorite recipes.
The River Market area only sits a little over a half mile away from The Grand, so it's the perfect place to take a stroll with your dog when you're ready to take a break from our pet-friendly apartments. If you do take your pet to the River Market, a short walk farther will take you to one of the most booming pet spots in all of Kansas City – Bar K, a place where you can let your dog off the leash while you enjoy a cold one.
Our Downtown Kansas City Apartments Put You Right In On The Action
Whether you're living in an executive suite, one bedroom apartment, penthouse, or any other floor plan we offer, you can be sure of one thing: You'll be treated to the full Kansas City experience living at The Grand. No other luxury apartment near you can say that. Our location, living experience, and amenities set The Grand apart.
We're ready for you to join our community! Call us at (833) 672-8002 today for more information, or contact us online. If you're ready to take the next step, apply online to get the process started and move one step closer to the premium luxury living you deserve.