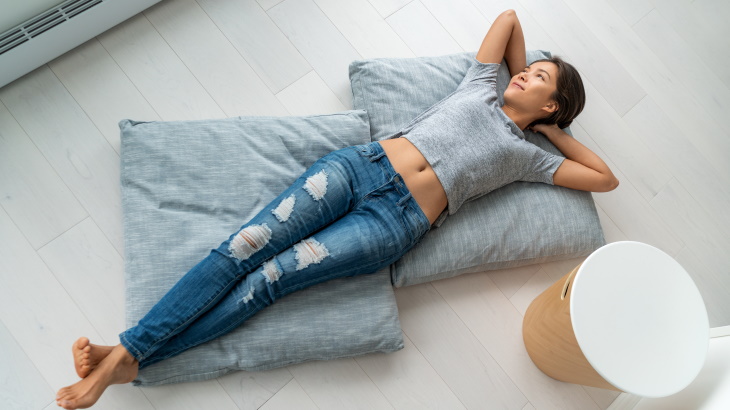 Top 5 Reasons to Move Into The Grand Before Summer
Are you ready to take your summers to the next level? Then you need to elevate your life in our luxury apartments in Kansas City at The Grand! Our new apartments for rent come with sensational views, unique amenities, and, of course, a luxurious lifestyle.
If you're ready for a new place to call home, check out these top five reasons you need to start living life to the fullest in our luxury apartments at The Grand!
Get Results With Your Fitness Routine
Everyone knows the best way to stay fit is with motivation and state-of-the-art equipment. At our luxury apartments in Kansas City, you can sweat out stress and get ready for swimsuit season at our 24-hour fitness center and studio with group fitness classes.
Our gym has everything you need to get lean, tone up, and burn energy. The best part is that your new apartment is just steps away. That means you can get a killer workout and head straight to your shower in a matter of minutes.
Get With The Grand: Take your fitness game to the next level by ordering customized meals to your luxury apartment. The team at The Grand will gladly accept your meal packages in our parcel lounge.
The Sky's the Limit on Our Rooftop Pool
If you want extravagant views and clear skies, then you need the highest rooftop pool in Kansas City. The Grand is proud to provide our residents with this ultra-opulent swimming pool every summer!
We take it a step further by featuring a luxurious lounge so you can catch some shade and cool off. There are even outdoor grills, so you can enjoy summer to the max. There's no better place to spend the Fourth of July than at our luxury apartments in downtown KC!
Get With The Grand: How can you make the highest rooftop pool in Kansas City even better? With outdoor TVs! Make your summers memorable by gathering your best friends and catching the baseball game poolside at our luxury apartment complex.
Give Your Guests The Grand Treatment
There's no place like Kansas City in the spring and summer! The trees are glistening green, the skies are perfectly blue, and the weather is gorgeous. When you have friends and family in town to celebrate the best of KC, don't let them stay in a stuffy hotel.
Instead, have them stay in a fully furnished guest suite at The Grand, where they can get a taste of the luxe life. As your guests, your friends and family will have access to everything our new apartment homes offer, and you won't have to travel to a distant hotel to see them.
Get With The Grand: Your guests won't have to worry about parking when they stay at our luxury apartments in Kansas City, because they'll be provided with a free parking space when they rent one of our guest suites at The Grand.
Indulge In Luxury on Rainy Days
You can't truly enjoy the sunny days at our luxury apartments without the rainy ones, but that doesn't mean they have to be boring! When summer storms are brewing in Kansas City or it's too hot to be outside, then spend time in our high-tech digital sports lounge.
You'll be able to play a few rounds of digital golf, shoot some hoops, or even survive a zombie apocalypse. If that's not enough, our sports lounge also has electronic darts and an arcade table.
Get With the Grand: If video games aren't your thing, then gather your gal pals and binge your favorite TV show in our stunning theater vault! You'll find a huge flatscreen TV, comfortable seating, and everything you need to have a cozy night inside.
Pamper Your Dog in Our Downtown KC Apartments
We have pet-friendly apartments at The Grand! Spoiled your furry friend by letting them off-leash in our private outdoor bark park. It's a great place to schedule a puppy playdate with your neighbors and get some fresh air.
When you're done having a blast outside with your best friend, make them feel brand new at our Paw Spa, where we have all the supplies you need to clean up your dog. Choose from tear-free or oatmeal shampoos, borrow an apron to keep dry, and use our dog-washing station to freshen up your pup.
Get With The Grand: We believe your pets are an essential part of your life. That's why our pet-friendly apartments have zero breed restrictions, and allow up to two pets per apartment. Talk to our team to find out more about pet fees and rent.
Your Search for the Best Luxury Apartments in Kansas City Stops With The Grand!
Don't waste another minute hitting the search bar for "luxury apartments near me," because you've found them at The Grand in Kansas City, Missouri! Our new apartments for rent have it all – great location, incredible amenities, and beautiful, spacious floor plans.
If you're ready to get with The Grand and enjoy our rooftop pool this summer, call our leasing team at (816) 656-8500, or send us a message online. We'll be happy to schedule a tour of our luxury apartments in downtown KC!