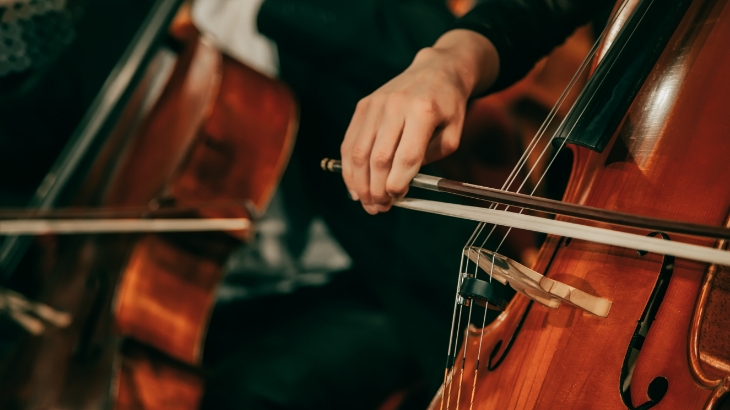 3 Theaters You Can Walk to From Our New Apartments in Kansas City
Are you ready to celebrate summer with a song and dance? Kansas City's diverse and enchanting performing arts venues have something to entertain everyone.
Whether you prefer classic Broadway performances, creative and quirky creations from local playwrights, or something the whole family can enjoy, you can find incredible entertainment just minutes away from our luxury apartments in Kansas City.
Check out these top performing arts venues in Kansas City, and find out why you might not even need to leave home to get sensational entertainment.
1. Kauffman Center for the Performing Arts
In a blissful 13-minute walk from our luxury apartments in downtown KC, you can find yourself in front of the Kauffman Center for the Performing Arts. This nearly 285,000-square-foot facility has two main performance halls that host national and international performers.
Take a look at these upcoming 2022 performances, so you can buy your tickets in time to get great seats:
Boss Scaggs with Special Guest The Robert Cray Band on Friday, August 19, 2022
"Weird Al" Yankovic on Friday, September 2, 2022
Harry Potter and the Half-Blood Prince™ in Concert, Film + Live Orchestra from September 7-11, 2022
Violent Femmes with the Kansas City Symphony on Saturday, October 1, 2022
You can even catch the live version of Wheel of Fortune on Friday, November 25, where you can randomly be selected to win cash and prizes. There's no purchase necessary, so bring all your friends and family.
Feel Like a Winner Every Day When You Live in Our Kansas City Luxury Apartments
Our new apartments for rent in downtown KC have all the luxury amenities you need to feel like a star daily. Start your day waking up in your sleek and modern apartment, make your way down our gourmet coffee station, pick-up your dry cleaning, and get ready to face the day in style.
To learn more about our complimentary resident amenities and services, request a tour of our luxury apartment homes. The leasing office at The Grand is open seven days a week, so contact us at our convenience.
2. Kansas City Repertory Theatre
Better known as "The Rep" by Kansas City natives, this professional theater in residence at the University of Missouri-Kansas City is only a 4-minute walk from our luxury apartment homes. Here your eyes can feast on classic theater, provocative plays, and holiday magic.
Here are just a few productions The Rep is staging for their 2022-2023 season:
Twelfth Night from September 6th through September 25, 2022
Flood (An OriginKC: World Premiere) from January 31-February 19, 2023
Peter Pan and Wendy (A New Old Adventure) from May 2-21, 2023
Not only can you see spectacular plays and large-scale collaborations with other theater programs across the country, you can join in on programs like free stage-readings of exciting new plays before they hit the stage.
You're Always Center-Stage When You Lease a New Apartment at The Grand
We have everything you need to take a leading role the next time you host your friends and family in our luxury apartments in Kansas City! From our high-tech Digital Sports Lounge to the highest rooftop pool in KC, you're sure to impress and delight your guests with our opulent amenities.
Our pet-friendly apartments even have features to treat your dog like an A-list celebrity. Let them stretch their legs off-leash in our private outdoor Dog Park, then pamper them in style at our paw spa.
You can learn more details about our pet policies and pet fees by requesting a tour of our luxury apartments or reaching out to us online. We'll be happy to answer your questions about our pet-friendly apartments in downtown KC!
3. The Folly Theater
The Folly Theater is Kansas City's oldest theater, and is listed on the National Register of Historic Places. In its infancy, it featured celebrities like the Marx Brothers, Gypsy Rose Lee, and even boxing matches on stage.
Now, it hosts a variety of events including live theater, a world-class jazz series, and family-friendly productions – and this historic Kansas City gem is just a short 7-minute walk from our new apartments for rent.
Check out these shows and productions you can see this summer and fall:
Unbreakable on Sunday, June 12, 2022
Stephonne LIVE! In the Lounge on Thursday, June 23, 2022
Folly Jazz Series from October 14, 2022-May 5, 2023
The Folly Theater also holds a series of partner events that include regular performances from The Heartland's Men's Chorus, The Friends of Chamber Music, and the Ailey II Dance Company.
All you need to do is purchase tickets, put on your favorite outfit, and walk to a night filled with incredible entertainment!
Find Entertainment Right Outside Your Front Door at Our Luxury Apartments in Downtown KC
Live in the heart of Kansas's premier entertainment district when you lease a new apartment at The Grand! Experience little luxuries in your apartment like stainless steel appliances, smart apartment technology, and in-home washers and dryers.
Step outside your new apartment, and indulge in opulent community amenities like a theater vault, rooftop pool, top-notch 24-hour fitness center, and so much more.
Are you ready to step out of your basic life and step into luxe living at The Grand? Then call our leasing team at (816) 399-2909, or send us a message. Don't forget to ask how you can truly elevate your life by renting our penthouse!