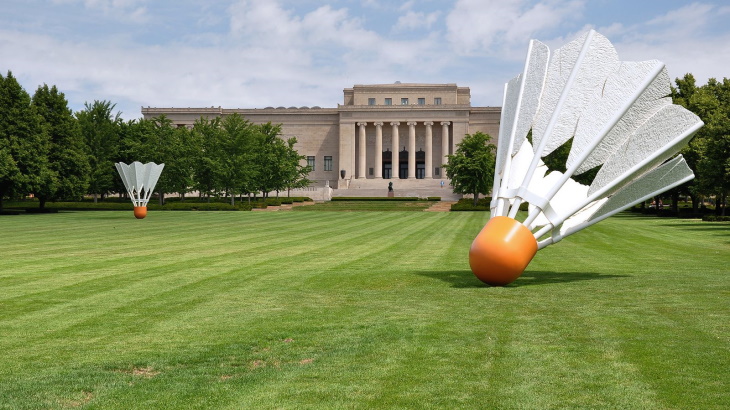 How You Can Usher In Warmer Weather With Luxury Apartments at The Grand
We can all agree that Kansas City is a great place to live – but winter lasted a little too long this year. Thankfully, warmer days for our luxury apartments are just around the corner.
Even though our new apartments in downtown KC have everything you need to feel at home 24/7, it's still a good idea to get out and experience our beautiful city in the spring. If you're new to the area or are looking for unique ways to spend time in Kansas City, check out these springtime events that are perfect for a breath of fresh air.

Nelson Atkins Museum of Art Is Only Minutes Away From Our Luxury Apartments
Nelson Atkins Museum of Art is one of Kansas City's most popular attractions. Even better, it's only about a 10 minute drive from our luxury apartments. This enormous museum is filled with gorgeous fine art from all over the world and offers incredible art tours – but you can do so much more! Check out how you can spend the day at Nelson Atkins:
Art Course
Did you know you can play mini-golf at an art museum? From April 1st to May 22nd, play a few rounds at the Donald J. Hall Sculpture Park. The course is open Friday through Sunday, and you need to reserve your tickets.
Members of the Nelson Atkins get first choice for their course time, so make sure you sign up to receive updates on more of their special events near our apartments in downtown KC.
ShuttleCork
If you love food, wine, and fine art, then reserve tickets for ShuttleCork 2022! This annual event features two amazing nights of the best food and wine in Kansas City, and supports our community. You'll get to meet vintners, indulge in fine wines, and get your chance to own a rare vino by participating in a live auction.
This one-of-a-kind Kansas City experience is April 28th and 29th. It requires proof of Covid vaccination for entry, so make sure you are up-to-date before you attend.

Celebrate Independent Films at the KC FilmFest International
Formally known as the Kansas City FilmFest, the KC FilmFest International is celebrating an outstanding 26 years of bringing independent films to Kansas City audiences. April 25th through April 28th, you can experience three days of films from all around the world. Here's what you can expect when you attend:
Filmmaker panels
Nightly after-parties
Over 120 narrative documentary shorts and features
Topics like women directed films, Latin cinema, Black Voices Matter
You'll even have the chance to vote for your favorite films, interact with filmmakers, and volunteer during the festival.
Can't make it to the KC FilmFest International? When you live in the new apartments for rent at The Grand, you have access to our gorgeous Theater Vault. Invite your friends over to watch something thought provoking or just binge your favorite reality shows, you'll be sure to have a great time, either way.

Spend Memorial Day With the Bank of America Celebration at the Station
After a two-year hiatus, Celebration at the Station is finally back! On May 29th, the KC symphony will perform a concert that draws thousands of people from all over the country. Not only is this the largest Memorial Day concert in the Midwest, it's also free!
This concert is performed against the magnificent backdrop of Union Station, and is only a seven-minute drive from our Kansas City apartments. Expect to hear patriotic classics, see guest appearances, and end the evening with a dramatic fireworks show. Masks and Covid vaccinations are required to attend this annual KC event.
Start Training for the Kansas City Triathlon in Our Kansas City Apartments
The Kansas City Triathlon has only been around for a few years, but Kansas City natives love this premier fitness event that's filled with several triathlons and duathlons. This includes an Olympic Duathlon. Take a look at how you can test your endurance at the Kansas City Triathlon:
Olympic Triathlon – 1500m swim, 40K bike, 10K run
Sprint Triathlon – 500m swim, 20K bike, 5K run
Olympic Triathlon Relay (teams of 2 or 3) – 1500m swim, 40K bike, 10K run
Olympic Duathlon – 5K run, 40K bike, 10K run
Sprint Duathlon – 2.5K run, 20K bike, 5k run
The Kansas City Triathlon isn't until May 22nd, but it's best to start training as soon as possible. Our luxury apartments have a top-of-the-line, 24-hour fitness center to help you get ready to show off your strength. We even have a secure bike rack inside our parking garage, so you can pedal your way through downtown Kansas City as you train for the triathlon!
Blossom Into Spring in the Best Luxury Apartments in Kansas City
There's no doubt about it, Kansas City blooms in the spring! Settle into warmer weather and spectacular views with our luxury apartments at The Grand. We have studios, 1-, and 2-bedroom apartments filled to the brim with amenities you won't find in any other apartment homes in Kansas City.
If you think spring is something else at The Grand, wait until you experience summer on top of the highest rooftop pool in Kansas City! See KC like never before by calling our leasing team at (816) 656-8500 or contacting us online. The Grand is a pet-friendly apartment building, so make sure you take a look at our private bark park, too!