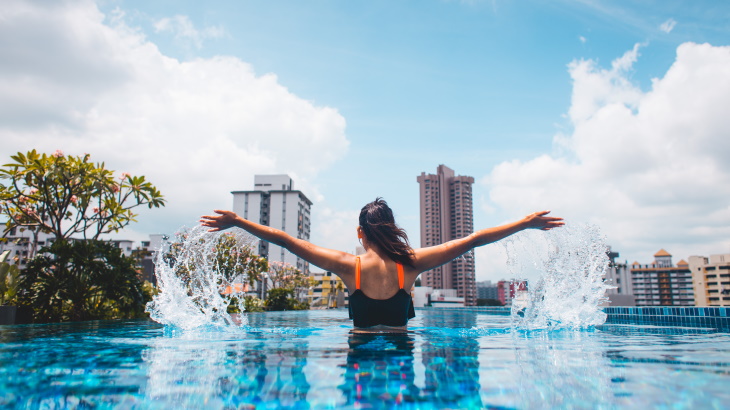 7 Reasons You Won't Want Any Other Apartments in Downtown KC
Are you and your friends ready to make this a summer to remember? Then you need to live in the
luxury apartments at The Grand
! Our
downtown apartments in KC
are the perfect place to heat things up while keeping it cool this summer. See what sets our luxury apartments apart from all the other basic apartments in Kansas City!
1. Let the Highest Rooftop Pool in Kansas City Take Your Breath Away
Sure, other apartment homes have a pool, but do they have the highest rooftop pool in Kansas City? We can answer that – they don't, because The Grand does! See The elevation pool atop our luxury apartments in downtown KC. You'll find breathtaking views, outdoor TVs, a grilling area, and comfortable loungers. Your friends won't want to be anywhere else but our new apartments this summer.

2. Find an Overnight Furnished Guest Suite in Our Luxury Apartments
When you rent one of our luxury apartments, it feels like living in a hotel. So, it doesn't make much sense to have overnight guests book a hotel. And even though our new apartments are spacious, having them stay overnight and seeing them first thing in the morning isn't ideal, either. Give your guests the best of both worlds and let them stay in our overnight guest suite at The Grand, where they'll get treated just like a resident!

3. Private Dog Park and Paw Spa for Your Furry Pal
Taking a walk through the city is a wonderful activity to do with your dog, but your pal needs to really stretch their legs from time to time. Let your furry friend run leash-free in our private outdoor dog park. It's a great way for you to meet your neighbors that live in our apartment homes and get some hassle-free social time for your dog. Don't worry! If your pup's feet get muddy, you can
treat them to a wash at our Paw Spa
.
4. Tee-Up a Perfect Day in Our Digital Sports Lounge
You don't need to live in Kansas City for very long to know that our area has extreme temperatures. In the winter, it's below freezing outside, and in the summer, it's unbearably hot. Don't let it ruin time with your friends. Instead, rent one of our Kansas City apartments, instead. We have a digital sports lounge filled with games and activities fit for every taste. Try virtual golf, fight zombies, or just play a round of darts. Don't forget to put the Royals game on our flatscreen TVs, so you can watch the big game while you play games of your own!
5. Get Together With All Your Friends in Our Theater Vault
While the
floor plans of our luxury apartments
can fit a few of your best friends, there isn't room for a full-out watch party. However, there's plenty of room in the Theater Vault at The Grand. Binge-watch gritty dramas and romantic comedies on overstuffed couches and big screen. Our Theater Vault is the perfect place for intimate parties and weekend get-togethers with the girls. All you need to do is bring your favorite vino and snacks.
6. Controlled Access Parking Garage for Easy Nights Out
You spent a lot of money on your car, which is why our luxury apartment building has a parking garage with controlled access. Not only will you always have a place to park your pride and joy, you'll get the benefits of enhanced security and protection from the elements. Easy access to your parking spot also means you can return to your parking spot after a night on the town without having to make a long walk to your new apartment.

7. Live in Luxury Apartments With a Great Location
Of course, it's important to find apartment homes that are close to where you work, but you need to think about how to spend your free time, too. The luxury apartments at The Grand are
incredibly close to some of Kansas City's best attractions, nightlife, and restaurants
. Don't feel like cooking? Take a short walk to a restaurant around the corner. Ready to put on your dancing shoes? Rideshares will barely cost you a thing – or you can spend your time at home, indulging in all the amazing amenities our Kansas City Apartments offer!
You Know Real Luxury Apartments When You See Them
The best part about living in our apartments in downtown KC is that all the little luxuries really add up to something big. Throughout The Grand, you'll find thoughtful and impressive details everywhere. From our exclusive resident events to full-size washers and dryers in every floor plan, there's opulence in every corner of our new apartments in Kansas City.
Let The Grand show you what luxury is all about! Schedule a tour of our new apartments for rent by calling (816) 656-8500 or sending us a message online. We're open seven days a week, and our future resident parking spaces are easily located in our drive-thru lane just North of our parking garage. We can't wait for you to see your new apartment home!