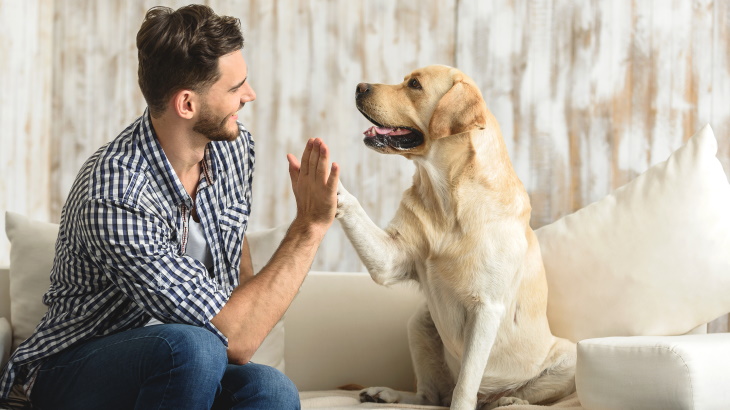 How You Can Spend Time With Your Dog at The Grand
Are you ready to shake off the winter blues and explore Kansas City with your pet? If you live at The Grand, you're in luck, because we have the pet-friendly apartments in downtown KC with all the little details that let you and your dog live in the lap of luxury. Here are some of the many ways you get to spend quality time with your four-legged family member when you rent our apartment homes.
West Terrace Dog Park for a Playdate in the Sunshine
This members only off-leash dog park is owned and operated by Kansas City Missouri Parks and Recreation. It contains 1.5 acres of completely enclosed space so your dog can freely play, run, and socialize with other dogs. This private park has thought of everything for your pup. It has two water fountains, a shade pavilion, disposal bags, and plenty of receptacles.
You can get to West Terrace Dog park in just a short 20-minute walk from our luxury apartments or get there in about 5 minutes when you drive. Just make sure you've paid your yearly membership fee and have your swipe card to get in.
Make Life Grand
When you don't feel like making a trip to West Terrace, you can still let your dog run free at our luxury apartments. We have our own private outdoor dog park, where your dog can stretch off-leash after a long day. Even better, your front door is only steps away.
Pet Friendly Apartments Near It All – Even Artisan Ice Cream for Your Dog
There's no better way to show your dog how much you care than a delicious treat! Kansas City is home to several bakeries, restaurants, and shops that are dedicated to your pup. Here are just three fabulous establishments near The Grand where you can give your dog special attention:
Try Something New at Mixed Mutt Creamery
In just a 3 minute drive or a 16 minute walk from our dog friendly apartments in Kansas City, you can serve up dog-friendly artisan ice cream. Let your furry friend try flavors like Maple Bacon, Cheddar Apple, or Pawsitively Pumpkin. Mixed Mutt even has a selection for your cat, MeowMeow.
Bar K Has Food for Everyone
This Kansas City favorite is only a five-minute drive from The Grand. Bar K is a two-acre dog park that features play equipment, TVs, and incredible food for you and your dog. For instance, you can order a marinated and grilled portobello mushroom sandwich for yourself and chicken risotto for your hungry canine. There is also a special space for dogs under 25lbs, so they can have a safe and fun time at Bar K.
Three Dog Bakery – A Kansas City Sweetheart
You won't find a Kansas City original quite like Three Dog Bakery on the Country Club Plaza. They originally began baking treats just for pups in 1989, and have been dishing out the goods ever since. It takes about a fifteen minute drive from our new apartments, but you'll come home with unique treats that will delight your dog. Take your love to another level by celebrating your four-legged family member's birthday with a custom cake!
Make Life Grand
After a day out with your dog, come back home and give them a relaxing bath in the Paw Spa at The Grand. Our pet-friendly apartments for rent have everything you need to clean up and wind down. When your dog is ready for a long nap, head up to our rooftop pool and destress on the sundeck.
Explore the Neighborhood Around Our Apartment Homes With a Selfie Tour
When you live at The Grand, you're near some of Kansas City's most beautiful cityscapes! Why not spend a day out with your dog by taking a selfie tour? Put on your favorite spring outfit, pick out a chic collar for your pup, and step outside for some fun in the sun and fresh air. Check out these places right next to our luxury apartments that make an incredible background for an unforgettable selfie:
Mainstreet KC at the Power & Light District Is Down the Street
Once known as the Empire Theater, Mainstreet KC is a piece of iconic Kansas City history. This theater has show-stopping architecture from the 1920s and is less than 10 minutes away from our pet friendly apartments. Snap a selfie under its famous marquee and take a look at feature films to plan your next date night.
Central Public Library Gives You an Incredible View
Not only is the Central Library about 7 minutes away, it's also one of the most gorgeous libraries you've ever seen. The "Community Bookshelf" offers a stunning view of 22 book spines measuring 25 feet by 9 feet peeking out into the city. It's the perfect place for a special selfie with your dog.
City Hall Holds Much More Than Expected
Kansas City, Missouri's City Hall is most noted for its art déco ornamentation and elaborate details. When you walk around the exterior of this architectural wonder, you'll find things like seahorse fountains and a sculpture of Abraham Lincoln with his son. All you need to do is walk less than five minutes from our luxury apartments, and you'll be snapping pics with your pup in no time.
Make Life Grand
The best place to take a selfie with your dog is at The Grand! Our apartment homes in downtown Kansas City are in a historic bank building, where you can experience new-age luxury in a nostalgic setting. Lease a high-tech, pet-friendly apartment at The Grand, and the selfies will never stop!
Unleash a Luxe Life at the Best Luxury Apartments in Kansas City!
Are you looking for new apartments without breed restrictions? Then search no further than The Grand, where we've thought of all the little details that truly bring luxury living to life. From our pet-friendly location to our cozy and modern amenities, you'll wonder why you and your pet lived anywhere else.
For more information about our pet policy or to request a tour of our luxury apartment homes, call our leasing office at (816) 656-8500 or send us a message online. If you like our pet-friendly amenities, then you'll love the amenities for our residents. Don't forget to ask our team about our pool, which is the highest rooftop pool in Kansas City!