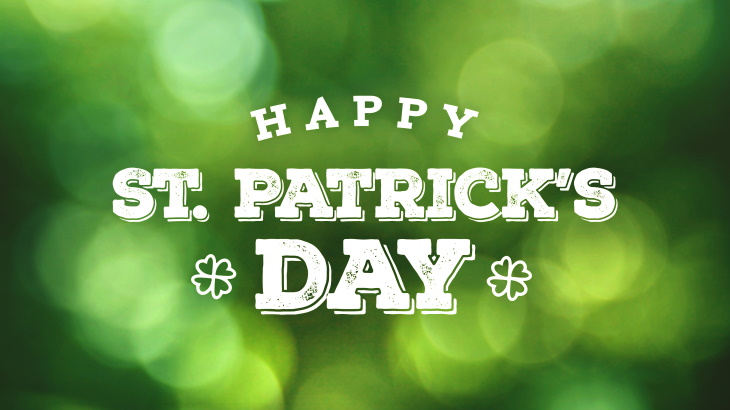 And Why You Don't Need Luck to Find Luxury
The luck of the Irish has thrived in Kansas City since the 1800s, and we're still inspired by Ireland to this day. That's why you can find several ways to celebrate St. Patrick's Day near our luxury apartments at The Grand. From KC's biggest parade to something a little more low-key, look at how you can find magic on St. Patrick's Day:
Celebrate in Style at the St. PatriKC's Day Parade
Our St. Patrick's Day parade is an iconic way to celebrate the luck of the Irish in Kansas City. Get ready to dust off your best jig, because the theme for 2022 is "Doing an Irish Dance!" The parade is filled with Kansas City vendors selling delicious food, drinks, and souvenirs. This St. Patrick's Day event is fun for the whole family. Here are the details you need to attend the parade:
Day: The St. PatriKC's Day Parade is always March 17th, rain, snow, or shine.
Starts: 11am
Ends: Around 1:30pm
Route: Begins at Linwood & Broadway and proceeds down Broadway to 43rd St.
Parking: There are over 15 areas to park along the parade route
The St. PatriKC's Day Parade also sponsors a virtual food drive called "Go for the Green." This is a chance for the community to combat hunger in Kansas City. You can take part by donating online through the parade website.
We Won't Rain on Your Parade at Our Luxury Apartments in Kansas City
Can't make it to the parade? You're in luck, because The Grand is filled with luxe fun for a fantastic St. Patrick's Day. Start your morning with a fresh brew from our complimentary coffee bar and spend the day relaxing in the digital sports lounge, complete with a virtual putting green.
Don't worry about parking, either! Our luxury apartments have a controlled access parking garage and reserved surface parking. Even better, we have a complimentary car care station with a free vacuum and air access.
Find Fun at the 5th Annual Kansas City St. Patrick's Day Crawl
If you and your friends are ready to get into a bit of trouble this St. Patrick's Day, then gather your favorite hooligans for the annual bar crawl put on by Social Scene. This event features DJs, live bands, and – green beer! Start your crawl early and you can participate in a special Irish-themed scavenger hunt and receive $10 to spend at the event. Take a look at how you can have fun at this Kansas City bar crawl:
Date: March 12th
Where It Begins: The Ship in Kansas City, Missouri
Starts: 12pm, those who get there before 1pm receive special perks
Ends: 6pm
Cost: General Admission is $21.50
The team at The Grand wants to remind you to always designate a driver. Luckily, The Ship is only a 7-minute Uber ride from our apartments in downtown KC.
Our New Apartments Are Designed With Your Lifestyle in Mind
When your guests have to stay in a hotel room, it makes it difficult to get the party started. That's why we offer an overnight furnished guest suite. You can keep your privacy, but still have your loved ones close by. Just talk to our leasing team at The Grand about your guest's itinerary, and we'll help them get settled in for a fun St. Patrick's Day.
Feel like staying in? The Kansas City apartments at The Grand are the perfect place to relax with your friends and family. Get quality time with your loved ones in our theater vault or cook an amazing meal in your luxury apartment's state-of-the-art kitchen. No matter what you do, you and your guests will have an amazing and unforgettable holiday at The Grand.
Race Into Shenanigans at the St. Patrick's 4 Mile Run in Westport
Since 1979, the St. Patrick's Day Run has flooded the streets of Westport with a sea of green. You can sign up as an individual, as a team, or even sign up your child for a kid's fun run. After completing the 4-mile marathon, you can deck yourself out in a clover-embellished finisher's medal and ultra-cool t-shirt. Check out the details on how you can sign up for this St. Patrick's day favorite:
Where to Sign Up: Online or at Gary Gribble's Running Sports on Ward Parkway
Cost: $34
Where It Begins: Pennsylvania and Westport Road
Race Day: March 12th
Starts: 10am
Costumes are encouraged for the St. Patrick's Day Run! Start planning your outfit today, and enjoy race day to the max. Just remember you're running or walking 4 miles, so be sure to choose something comfortable.
Start Training for Your Next Marathon at Our Apartments in Downtown KC
Don't go into race day unprepared and start training in our 24-hour fitness center at The Grand. Our facility has all the equipment you could ever need to quicken your pace and build your muscles. Not to mention, by spending time in our gym now, you'll look incredible sitting next to our rooftop pool in the summer.
After you're done training for your next marathon, train your dog in our private bark park. Your furry family member can stretch their legs and have a little off-leash fun. Stop by our paw spa for a little extra TLC and a treat, too!
Don't Depend on Luck When You're Searching for The Best Apartments in Kansas City
If you've been looking for luxury apartment homes near you, then stop your search! Our new apartments for rent have it all – top-of-the-line appliances, smart home features, pet-friendly living, luxe amenities, and the highest rooftop pool in Kansas City. Combined with an incredible location in downtown KC, and you'll feel lucky every morning you wake up to our breathtaking views.
Are you ready for a rainbow to lead you to a pot of gold? Then contact our leasing team at The Grand at (816) 656-8500 or send us a message online to schedule a tour of our luxury apartments. Ask us about how we celebrate our residents with exclusive events!