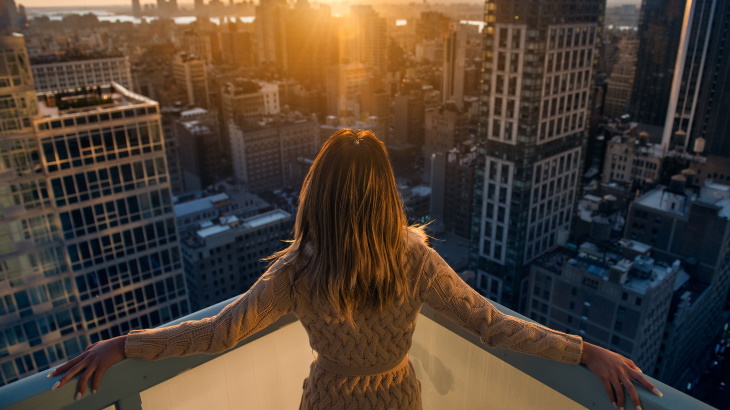 5 Reasons to Choose Luxury Over Basic Apartment Homes
Stop Paying for the Gym – Rent Luxury Apartment Homes
It's true, most
new apartments for rent in Kansas City
have basic fitness centers. However, they usually aren't open 24 hours and definitely don't supply all the equipment you need for a full-body workout. Luxury apartments can dish out extra money on top-of-the-line fitness equipment to make their centers bigger and better than other apartment complexes.
Luxury apartments offer elegant extras like pools, lounges, and fitness classes. Plus, having 24 hour access to the gym saves you time and money. You won't need to worry about getting in your workout before they lock the doors, and access to the gym is covered in your rent.
Why You Need The Grand: Our Kansas City apartments have an incredible 24 hour fitness center, with the best equipment we could get our hands on. We also think every resident deserves to invest in their health and wellness.
That's why we have a dog park for your four-legged family member! Let your dog go off-leash and get a workout before you hit the gym. Don't forget to visit the paw spa when you're both ready to relax!

Find Kansas City Apartments in the Right Location
Wouldn't it be nice to live extra close to the most popular shopping centers, restaurants, and entertainment districts in Kansas City? Well, you can, when you live in
luxury apartments in downtown KC
. Take a look at the perks of renting new apartment homes in the right location:
Experience your neighborhood and get fresh air
Get what you need, without fighting traffic
Never worry about parking
Spend less time in your car
An enormous benefit that should never be ignored is that you don't need a designated driver when you live within walking distance of the hottest clubs and bars in your city. That means you can enjoy one or two extra drinks, and arrive home safely.
Why You Need The Grand: Our new apartments for rent are next to Kansas City's exciting nightlife! You can easily get to the Power & Light District and the KC Repertory Theatre, where you can see breathtaking plays and black-box theatre. If you're ready to stock your luxury kitchen, head over to Cosentino's Downtown market for groceries.
Don't feel like going out? Don't Worry! The Grand has community amenities to keep you entertained throughout the cold Kansas City winter. Spend time in our digital sports lounge, our theatre vault, or grab coffee with your neighbors at our complimentary coffee bar.

Live in New Apartments With a Floor Plan That Works
How many times have you been in someone's apartment and it just didn't flow? No one likes to live in apartment homes where you're constantly bumping into things or you can't fit the furniture you like in places like your bedroom. When you live in luxury apartments, everything is designed with you in mind. For instance, you're likely to have spacious closets and a bedroom big enough for a king-size bed. Here are other ways
floor plans in luxury apartment homes
are much better than a basic apartment setup:
Open concepts that allow you to freely move throughout your home
Plenty of space for modern and functional furniture
Spacious bathrooms with vanity sinks
Your washer and dryer are neatly tucked away in their own space
You'll also be able to keep your apartment extra clean, because you'll have a floor plan that contains enough space for storage. That means you can add extravagant shelving, beautiful side tables, and anything else you need to stay organized.
Why You Need The Grand: You can choose from several floor plans at The Grand. We have gorgeous studio, 1, and 2 bedroom apartments in downtown KC. Select two-bedroom apartments have stunning private balconies that look over bustling city streets and beautiful skylines. When you schedule a tour of our property, you'll see The Grand is a cut above the rest.

Luxury Apartments Homes Are Expertly Maintained
When you live in basic apartments, sometimes items that need to be repaired are put on hold for days, even weeks. That's not the case when you live in luxury apartments. You can always expect lush landscapes, beautiful outdoor furniture, working gym equipment, and flawless pools and spas.
Other than having experts maintain your apartment, the biggest benefit of having a professional maintenance team is never having to worry about sweeping off snow from sidewalks. They'll be sure to keep you safe by immediately removing snow and ice, so you don't have to slow down on your wait out.
Why You Need The Grand: When you live at The Grand, you'll notice we thought of everything. Our maintenance team is ready 24/7 to tackle any problems that might arise in any of our apartments in downtown KC. It doesn't matter if it's big or small, our team is here to take care of it. We even have bike racks, a car care station, a parcel lounge, and controlled access to our parking garage.

Most Importantly – Luxury Kansas City Apartments Come With The Best Amenities
Especially the apartments at The Grand! When you lease our opulent pet-friendly residences, you'll be lapping up a life of luxury like no one else.
Our floor plans
have all the features you need to live a carefree lifestyle, and
our community amenities
can't be matched. Plus, our staff is dedicated to making all the tenants at The Grand comfortable and happy!
Schedule a tour with our leasing office and come see the highest rooftop pool in Kansas City! Call (816) 399-2909 or contact us online. The Grand is extra close to the best restaurants in KC, so make sure you ask our team where they like to eat when they're working hard to make our new apartment homes ready for your big move.