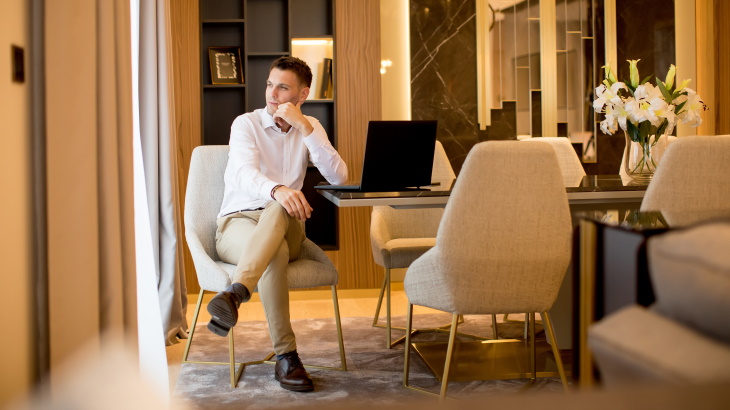 Tips on How to Afford New Apartments and Live Comfortably
You're ready to upgrade your lifestyle and
find the best luxury apartments in Kansas City
, but you want to be absolutely sure you can
cultivate a comfortable life without breaking the bank
. It's important that you love your new home, but you also wat to afford life's little indulgences. Keep calm, pour a glass of wine, and read these top tips for cutting your own slice of luxury.
Luxury is Everything You Make It
Before you commit to dishing out your entire paycheck on an opulent lifestyle, think about what luxury really means to you. It's a common misconception that luxury is all about net-worth, but it actually means finding happiness and self-fulfillment. Of course, having a large disposable income makes life a lot easier, but it certainly doesn't buy happiness.
On your journey to a luxury lifestyle, focus on all the positives you already have, and make goals that inspire you to achieve the life you want. Create space in your calendar to refine your budget, meditate, or focus on your friends and family. That way, you can enjoy a well-rounded, comfortable life in luxury.

Enjoy the Little Things at Our Kansas City Apartments
A Luxe Life Is Always Quality Over Quantity
It may tempt you to buy as many things as possible to feel luxurious. However, impulsively wasting your money on low-quality items is no way to lead yourself to the lap of luxury. When you spend your money on high-quality items, like furnishings, shoes, and outerwear, you get a lot of benefits:
Luxury items often come with incredible customer service and even better warranties
They are classy and timeless, which increases the quality of your lifestyle
Luxury items save you money, because they last longer than their cheaper counterparts
Only invest in high-quality products and experiences where you see fit. What's luxurious to you may not be luxurious to someone else. For instance, you might really enjoy cooking. So, invest in top-of-the-line cookware and splurge on your groceries. If you're into looking your best, spending your extra money on skincare might be for you.

Apartments in Downtown KC That Are Top-Notch
It doesn't matter how you like to spend your personal time, the
luxury apartments at The Grand
have an amenity you're going to love! Entertain yourself in our digital sports lounge, take a stroll through our bark park, or catch amazing views in our rooftop pool. When you live at The Grand, you'll never want to leave!
Find Time for Yourself – and Others
What would life be if it weren't for our friends and family? Having a close-knit circle of people who love and care about you is a lot more luxurious than owning a bunch of items. Make an effort to connect with those around you. Pick up the phone and call your mom, email someone you haven't spoken to in a while, or
get to know your neighbors in your new apartments
. Here are some other ways you can
connect with your friends and family
:
Have a coffee date with an old coworker
Take a walk through the park with your best friend
Reach out to family members you don't normally talk to
Schedule a puppy playdate with your neighbors
Never underestimate the power of delightful conversation and a great hug, because those are luxuries that money can't buy. Don't forget the quality time you can spend with your pet, either. Your furry family member can help you relax and feel loved when you're overwhelmed with the hustle and bustle of daily life.

Luxury Apartments Where You Can Get to Know Your Neighbors
We center the apartment homes at The Grand on community. Have a morning chat with your neighbors at our complimentary coffee bar, catch a flick with your friends in our theater vault, or relax in the highest rooftop pool in Kansas City. We even have a paw spa for your dog, so they can feel the love, too.

Luxury Is Health and Wellness
These days, an ultra-healthy lifestyle is the epitome of luxury. In fact, without your health, an opulent lifestyle doesn't really matter. The best part of taking control of your health is that it positively impacts all parts of your life. Start by taking small steps. For instance, make slow changes to your diet and ease yourself into a workout routine. When you get healthy, you'll wonder how you lived any other way!
Health isn't all about your physical body, either. It's important you take time to relax and decompress. So, consider using the space in luxury apartments for an area for you to unplug. Set up plush furniture and make sure it's screen free. The world will be ready to welcome you back when you're ready.

The Kansas City Apartments at The Grand Are Designed With You in Mind
When you live at The Grand, you don't need to worry about affording life's little luxuries, because we include most of them in your rent! Live in our
new apartments in downtown KC
, and you'll experience stainless steel appliances, a 24 hour fitness center, smart home features, and so much more. Even better, we're
pet-friendly apartments without breed restrictions.
To learn more about how you can get started on the path to living a life of luxury, call our leasing office at (816) 399-2909 or contact us online. Ask us how you can live in one of our new apartments for rent that features floor-to-ceiling windows!