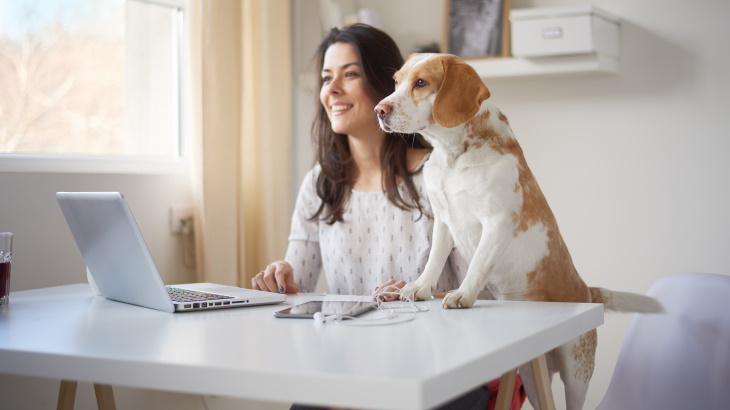 And 4 More Reasons The Grand Has the Best Luxury Apartments in Downtown KC
It's a new year and working from home isn't going anywhere. You might think you need to move from your one-bedroom apartment to something bigger, but we're here to show you why you have plenty of space in your one bedroom for a home office! If you're ready to work from home in comfort and style, look at these top tips to set up your workspace in our Kansas City apartments at The Grand.

1. Luxury Apartments Have Plenty of Space to Move Up
Not only do our new apartments take Kansas City living to new heights, you also have plenty of wall space to use in your living room. Line your wall with stylish bookshelves, modern floating shelves, and a desk with storage.
Before you log on, wake up at our complimentary coffee bar! The Grand offers quality coffee at the touch of a button. Stop and enjoy a cup with your neighbors, or head back to your luxury apartment to get to work. Don't forget to come back for another cup for an afternoon pick-me-up!

2. Choose Decor That's Functional and Fashionable
Who wants to work in apartment homes that are cluttered with paperwork and stray office supplies? The space in our luxury apartments in downtown KC have room for furniture that doubles as storage, so you can always stay organized. Furnish your apartment with a hutch, credenza, media consoles, and storage benches.
Keep your entire apartment organized by taking advantage of our spacious walk-in closets at The Grand. Each of the closets in our one bedroom luxury apartments has enough room to store all of your clothing and accessories, so you can find what you want when you need it.
3. Our Kansas City Apartments Have the Tech to Keep You Online
When you work from home, you need an internet connection that's dependable. That's why all our apartment homes come Google and AT&T Fiber ready. Set your home office up right off the bedroom to enjoy the wide open space with the living room and kitchen and never worry about your internet connection constantly cutting out during important video calls or while you're finishing up last-minute projects.
All of our luxury apartments come with Nest Thermostats, too. Adjust the temperature of your apartment from your desk chair, under the covers, or even before you get back from a resident event so you can always be as comfortable as possible in your new home.

4. We're Here When You Need to Take a Break From Work
Everyone needs a break from work, even when their office is at home. At The Grand, not only do we have spacious one bedroom luxury apartments with plenty of room for a large desk, we have incredible amenities for when you need to step away from work.
Take a quick look at how you can spend your break at The Grand:
Hangout in our digital sports lounge
Spend time with your dog at our bark park
Sweat it out in our 24 Hour Fitness Center
Take a walk to a nearby restaurant for lunch
We're here after work, too! The Grand is constantly holding resident events, so you can get to know your neighbors and unwind after work. Don't forget to invite your best friends over to take a dip in our rooftop pool in the summer, where you can watch outdoor TVs, grill, and get some sun on our deck.

3. End Your Day in Luxury Apartments in Downtown KC With a View
There isn't a better view than the one from our Kansas City apartments. Step into your new apartment's luxurious kitchen, pour a glass of your favorite vino, and look out the windows to see a gorgeous cityscape filled with sparkling lights and beautiful skies. Many of our apartments come with floor to ceiling windows for an unforgettable view after a long day's work.
When you're ready to leave your apartment, you'll find Kansas City's best restaurants and cocktail bars. Taste some of the Midwest's most modern and fresh cuisines and enjoy handcrafted drinks just blocks away from our luxury apartments.

Are You Looking For New Apartments for Rent That Offer It All?
Come see the luxury apartments at The Grand, where we have everything you need to easily achieve the best work life balance possible. With our convenient amenities and spacious apartment homes, you won't have to worry about carving out extra time for things like commuting to the office or getting to the gym from work.
All you need to do is log off and head out of the door to access our gym, bark park, theater vault, and more! To live a luxe life in our luxury apartments in downtown KC, call us at (816) 399-2909 or contact us online. We can't wait for you to see your new home!