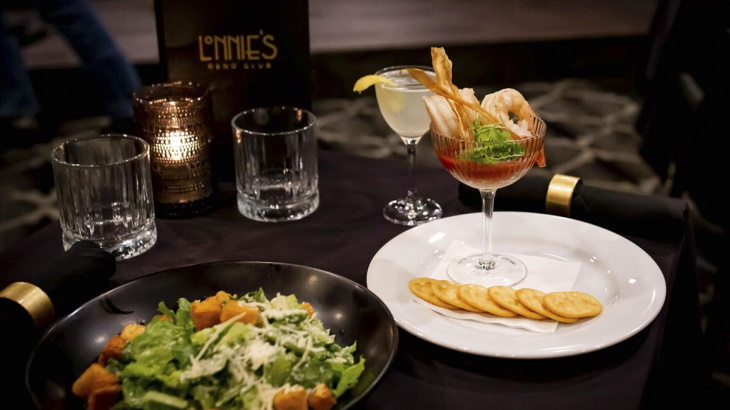 Another Reason Our Kansas City Apartments Have It All!
There are just some days when you don't feel like cooking, driving, or ordering delivery, which makes getting delicious food a little difficult. Unless you live at The Grand!
Our Kansas City apartments are conveniently located within walking distance of some of KC's best restaurants.
If you're ready to have everything at your fingertips, including incredible food and drink, check out these 5 restaurants you can walk to from The Grand -
Kansas City's best luxury apartments
.
Our Luxury Apartments are a Minute Away From the KC Daiquiri Shop
Even though the original Daiquiri Shop is in Texas, this KC location still serves up big flavor and delicious drinks. You can order authentic New Orleans style daiquiris and Cajun cuisine. You'll be impressed with signature drink mixes like the Hulk, Bomb Pop, Bob Marley, and Bourbon Blue.
Test your palette with dishes like blackened chicken, cajun chicken wings, and shrimp etouffee. Best of all, this cajun inspired restaurant is just across the street from our Kansas City apartments at The Grand.
Enjoy their menu seven days a week for lunch, dinner, and happy hours. After you're done filling up on good food and amazing daiquiris, just head back to your luxury apartment without having to wait for a ride on a frosty night. Don't forget to turn up the heat before you get to your apartment by taking advantage of our smart thermostats!

Downtown KC Apartments Right Next to Greek Cuisine
Are you looking for something light and fresh for lunch? Step out of your office and take a quick walk to Zaina, where you can
experience incredible Mediterranean food.
Pick up soup, salad, a sandwich, and more to satisfy your lunchtime cravings. They even offer a kid's menu!
Whether you try their trio dip or indulge in gyros, you won't be disappointed. They offer dine-in or takeout, which means you can order stuffed grape leaves to go after work, and come home to a glass of wine.
If you don't feel like walking, try getting around on your bike! The Grand has bike racks inside our parking garage, so you can keep your bicycle safe with your car. Contact The Grand today to see how you can start living in our new apartments, and experience a life of convenience and luxury.

Get a Taste of India With Just Short Walk From Kansas City Apartments at The Grand
Curry in a Hurry knows when you need food for lunch, you need it fast! Get a hot and delicious lunch Monday through Thursday at the speed of light when you order from this Indian restaurant. Their menu packs a lot of spice, so be prepared to warm up as soon as you take a bite.
You can find Curry in Hurry nestled inside Crown Center, so make sure you take time to enjoy your walk and take in the scenery of one of Kansas City's most iconic landmarks before you head back to our apartments in downtown KC.
When you live in The Grand's luxury apartments, you don't need to leave your home to appreciate how beautiful our city is. Many units have floor to ceiling windows, so you can see sweeping city views and gorgeous KC skies.

Get the VIP Treatment In One of KC's Most Highly Rated Restaurants – and at Our New Apartments for Rent, Too
Experience luxury inside of our apartments homes and out when you dine at Lonnie's Reno Club. Listen to upscale jazz music in a swanky club atmosphere, and try high-class food like beef wellingtons, salmon en papillote, and crème brûlée. Sip on champagne cocktails, specialty wine, French 75's, and more!
Lonnie's Reno Club is known for their music events and dining specials, which means you can listen to the best jazz in Kansas City just moments after you leave your front door. This restaurant by The Grand is low key but extremely busy, so make sure you book a reservation.
Can't get into Lonnie's? No problem, the luxury apartment homes at The Grand have everything you need to create your own night of magic. Make your own craft cocktail in your luxurious kitchen and come visit our digital sports lounge for a fun night with your neighbors and best friends.

Comfort Food is Just Down the Street When You Live at The Grand
If you're just in the mood for comfort food at a great value, then you need to order your next meal from Pickleman's Gourmet Cafe. Choose from chopped salads, gourmet soups, made to order pizzas, or toasted sandwiches. You can even get your meal delivered when it's too cold to walk!
They have an amazing selection of salads and pizzas for the picky eater, which means this gourmet cafe has something for everyone. Pickleman's is open seven days a week from 10 am to 10 pm, which gives you plenty of opportunities to try their menu for lunch and dinner.
It's easy to order too much food when it looks so good. Thankfully, the Kansas City apartments at The Grand have high-quality stainless steel appliances to keep your food safe for when you're ready for your next bite.

How Can You Experience Luxury and Convenience in Kansas City 24/7?
By living at The Grand, where our new apartments for rent have it all! Kansas City's best restaurants, cocktail bars, spas, and salons are all near our luxury apartments in downtown KC, so you never have to worry about heading to other parts of the metro to get what you want.
Don't wait to request a tour of our apartment homes. Call our leasing office today at (816) 399-2909 or contact us online to experience the best luxury apartments Kansas City offers. When you live at The Grand, you won't want to live anywhere else!