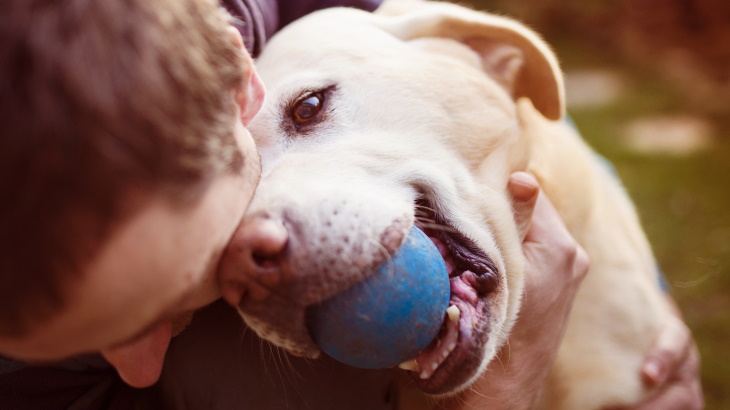 5 Ways Your Best Friend Can Benefit From Our Downtown KC Apartments
Are you searching for dog-friendly apartments that have more than just the basic amenities? Then your search is over because The Grand luxury apartments are here to elevate you and your dog to the next level of living. Check out all the ways your dog can benefit from living at our pet-friendly apartments in downtown Kansas City.

1. Take a Moment to Get Some Fresh Air
After a long work week or a stretch of extreme winter weather, it's good to get your dog outside for some fresh air. Dog parks give you the opportunity to get your best friend out for a well-deserved potty break without the pressure of needing to be quick. When you're outside and off-leash, your furry friend can take their time to their business.
At The Grand, our outdoor bark park is on the second floor where we have everything you need to keep your dog healthy and happy.

2. Live In Pet-Friendly Apartments Where You Can Go Off-Leash
When you let your dog go off-leash at our dog park, you both get a taste of freedom. You can each move freely around the park, and you don't have to worry about your pup pulling the leash to follow their nose.
Even better, it gives you the chance to truly run and race with your dog. See who's faster when you both take off in a sprint without being restrained by a leash.

3. Spend Time Socializing With Your Neighbors
Everyone needs time out with their friends, even your dog. Bark parks are the perfect place to make a puppy playdate. Schedule time with your neighbors, bring a cup of coffee, and let your dog socialize with their favorite friends.
Have a dog that's new to the social scene? You can slowly introduce them to socializing with other dogs in the park. Just keep them on the leash until you know they are comfortable around new dogs and new neighbors. It's also a great way for you to meet your neighbors if you just moved into one of our Kansas City apartments.

4. Pet-Friendly Apartments Keep Your Dog Healthy
Did you know dogs can suffer from mental issues like anxiety and depression? The best way to help them feel like themselves is by giving them physical activity, fresh air, and a positive state of mind. Dogs that visit the park are healthier and stronger, because outdoor playtime keeps their muscles, bones, and joints in good shape.
The Grand wants to make your dog feel even better with a trip to our paw spa, where you can find complimentary shampoo and bandanas for your dog. Don't forget to take care of yourself by visiting the digital sports lounge or the theater vault.

5. Bark Parks Let You Get to Know Your Dog
Have you ever wondered if your dog really knows their name? You can test out how much your dog can do when you visit the bark park. Since you're off-leash, you can try calling your dog from a distance or attempt to get them to stay as you walk to the other side of the park. Remember to bring their favorite treats to reward them for a job well done.
Getting a few hours in at the dog park can also reduce behaviors like excessive barking, chewing, rough play, and getting on the counters.

Fast Tips For Your First Trip to Our Private Park Bark in Our Downtown KC Apartments
Is this your first visit to the bark park? There are a few things you need to know before you head out of the door with your dog:
Verify all vaccination records
Make sure your dog is licensed
Train your dog to come when they are called
Keep your dog on a leash until they are properly trained
Always pick up after your dog and put them back on the leash before you leave the bark park
Now, all you have to do is leave your front door and walk straight to the dog park. Both you and your four-legged family member will surely enjoy it!

Lease One of Our Kansas City Apartments and Live in the Lap of Luxury at The Grand
The amenities in our luxury apartments at The Grand will make you want to stay inside all winter long, but once you look at the view from our rooftop pool, you won't be able to resist a long walk with your best friend.
We welcome all dogs at our pet-friendly apartments for rent. That's why we don't have breed or weight restrictions. Contact us online or call our leasing office at (816) 399-2909 to request a tour. Come for the treats in our paw spa and stay for the amazing living experience in the best luxury apartments in Kansas City.