Explore all the Benefits of Our Penthouse Apartments in Kansas City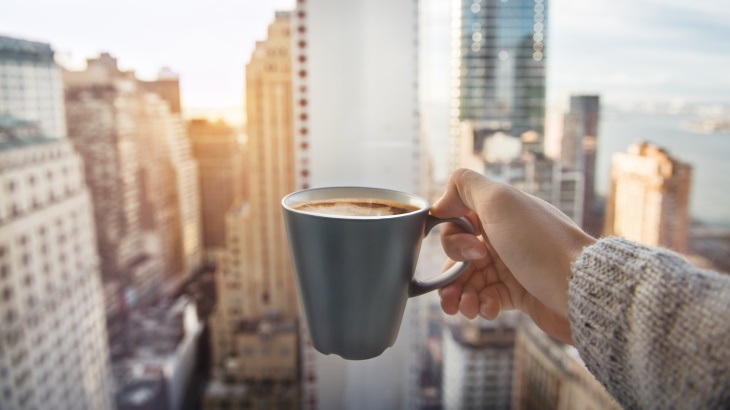 Kansas City is an undeniably beautiful city. Imagine if you could wake up to it every morning in your new luxury apartment.
When you live at The Grand, this becomes your reality. Our upscale apartments provide you with the highest quality of living. Go above and beyond and indulge in one of our penthouse apartments.
A penthouse apartment is exclusive and luxurious. At The Grand, you can live tastefully in your new penthouse apartment located in downtown KC.
Our lavish penthouse apartments offer outdoor access, more square footage, and most importantly, an astonishing view of the city.
What is a Penthouse Apartment?
A penthouse apartment is one that is located on the uppermost floor of a residential building. Because of its spacious design and breathtaking views, the penthouse is typically the most valuable.
There are several attributes that make the penthouse stand out from other units in an apartment building.

Pros of Living in the Penthouse
A penthouse apartment encompasses many perks that you won't find in an ordinary apartment unit.
Incredible Views. Because the penthouse is found on the top floor, it's evident that you'll witness a new and astounding perspective of the city right in the comfort of your own space.
Outdoor Access. While some apartments don't have a balcony, a penthouse apartment features an exclusive terrace where you'll be able to step outside and enjoy the weather at your leisure.
Peace and Quiet. Your home should be a place where you can relax and unwind. While residing in a penthouse apartment, you have an opportunity to escape the noise of city traffic, creating ultimate tranquility.
Spacious Floorplans. The roominess of a penthouse apartment instantly makes it more desirable. These sizable floor plans allow residents to disperse among their space and ultimately live more comfortably.
Find Your Penthouse Apartment in Kansas City
Our Kansas City penthouse apartment homes will empower you to live luxuriously. At The Grand, we offer multiple different penthouse floor plans, each including two large bedrooms.
Our floor plans supply you with enough space for large furniture, a king-sized bed, and anything else you need to make your new apartment home truly yours.
The kitchen of our penthouse apartment is finished with a gourmet quartz kitchen island that will instantly advance your everyday meals. With an upgraded black stainless steel appliance package, entertaining in your new penthouse is that much more elevated.
Another notable feature included in the penthouse apartments is the nearly 1,000 square foot outdoor patio. This space is great for entertaining guests, enjoying your morning cup of coffee, or just getting some fresh air.
Because we understand that your pet is an important aspect of your mental and physical well-being, we offer pet-friendly apartments. Our pet policy permits two pets per apartment home with no breed restrictions.
Found in the heart of the city, our apartment homes at The Grand are equipped with extensive community and apartment amenities.
Elevate your lifestyle with the endless community amenities that are available to our residents.
Resident Events. Have fun while you also meet other residents. Our exclusive resident events build relationships within our community and help form lifelong friendships. From celebrating our first birthday to Taco Tuesday, you won't want to miss out.
Furnished Guest Suite. If you have a visitor in need of a place to stay overnight, look no further than our guest suite. Complete with a parking space, your guest can have a comfortable stay while still remaining close by.
Rooftop Pool. Our elevated pool and lounge area is a sun deck that features a pool, grilling areas, and outdoor TVs.
Fitness Center. Reach your fitness goals at a time that's convenient for you. Our 24 hour fitness center includes machines and a studio room with group fitness classes.
Theater Vault. Enjoy the comfortable seating available in the vault theater media lounge as you watch a movie alongside your closest friends.
Paw Spa. Found inside The Grand, our paw spa serves as a great place to give your pet a bath without making a mess in your apartment.
Our apartment amenities contain a number of up-to-date and advanced technology features.
Energy-Efficient Thermostats. Each apartment home has a programmable Nest thermostat, so you can take full control.
Stainless Steel Appliances. Our apartment homes are completed with contemporary appliances, including a refrigerator, dishwasher, electric stove, and microwave.
Floor to Ceiling Windows. In select apartments, you'll find floor to ceiling windows that provide you with optimal natural lighting and an unbeatable view of the city.
In-Home Washer and Dryer. Each luxury apartment includes an in-unit, full size washer and dryer for utmost convenience.
New Penthouse Apartments for Rent
Our new apartments at The Grand are the perfect place to live and elevate your lifestyle.
Based in downtown Kansas City, MO, our luxury apartments are a prime location where you'll have access to unlimited dining, shopping, and entertainment options.
Don't wait! Call us and schedule a personalized tour of our luxury apartments in downtown KC.