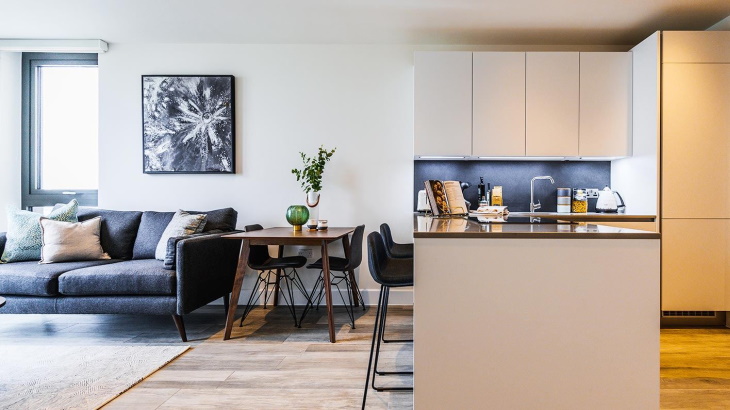 Exceptional Reasons The Grand Offers Perfect Apartment Homes For You
Are you looking for a luxurious lifestyle and new apartments in Kansas City? Then look no further than The Grand! Our units hold the highest standard in splendor, and our residents enjoy incredible amenities. Even better, our location is ultra-walkable. With luxury apartment homes at The Grand, you really can have it all.

What Sets The Grand Apart From Other Luxury Apartments in Kansas City?
The Grand sets the standard in luxury apartment living. That's because we crafted our 2 and 1 bedroom apartments to suit your lifestyle. Centered in the heart of Kansas City's Financial District, The Grand offers spacious apartments with rich, detailed finishes, amazing amenities, and top of the line appliances in every apartment. You won't find many other luxury apartments as opulent as The Grand.
Step outside our beautiful building, and take a short walk to a world-class dining scene, entertainment venues, museums, and shopping. Plus, enjoy a great day outside at our rooftop pool or at one of the five parks within walking distance.

Tell Me All The Fabulous Details About the Amenities in The Grand Luxury Apartments
If you're looking for a luxe environment without ever having to leave home, then these apartments are for you! You can enjoy perks like hardwood floors, walk-in closets, and kitchen islands inside your apartment. Of course, the essentials like washers and dryers, dishwashers, and high-speed internet access are featured in every apartment.
For community amenities, nothing compares to The Grand. Our residents can indulge in our gorgeous pool, complete with an outdoor cooking area, take your dog to our attached bark park, stop by our coffee bar, workout in the 24-hour fitness center, and even hangout in our digital sports lounge.
Cold winter months just got a lot more lavish, too. Skip taking your dog for a freezing morning walk, or just put your feet up after work, because The Grand offers discounted dog walking services through a third-party. And, in the winter, you'll be glad The Grand luxury apartments offer garage parking to keep the snow and ice off your vehicle.

Do Luxury Apartments at The Grand Really Offer the Space I Need to Suit My Lifestyle?
Absolutely! You can find spacious 1 bedroom apartments that suit your tastes and your lifestyle. Starting at just over $1,400, you can get an astounding 800 square feet of living space in the buzzing commercial district of Kansas City. For just a little more, you can upgrade your space to 1,040 square feet. You'll find enough space in your bedroom for a king-size bed, closet space for your entire wardrobe, and a spacious kitchen to entertain your friends and family.
You can stop searching for "studio apartments near me," too, because The Grand offers spacious studio apartments – more than 700 square feet – that also meet our rigorous standards. Contact a leasing agent today to ask about our available apartment homes.
Our residents are also welcome to enjoy community spaces like a car wash station, party room, and have access to exclusive resident events. Give your pup extra space with our paw spa, where they can get some professional pampering.

Can The Grand Really Give My Pet the Luxury Experience?
We believe pets are one of the most important parts of your life. When you're searching for "pet friendly apartments near me," a lot of options appear in the results. However, there are almost always restrictions on breeds and weight.
At The Grand, we don't have a single restriction on dog breeds or weight. You can even have up to two pets per apartment. Contact us today about all our pet-friendly amenities and other ways your pet can live a luxurious life.

Tell Me How Safe Luxury Apartments at The Grand Are
Safety is always a priority at The Grand. Not only do we have 24-hour staff at the desk and a doorman to ensure only residents and approved visitors can enter our building, we also have secure access for each floor.
You also can rely on our 24-hour emergency service for anything that might go wrong after business hours. Our staff is friendly, professional, and extremely quick to address all of your concerns.

How Can I Get a Luxury Apartment at The Grand In Downtown Kansas City?
Are you ready for an upgrade this winter? Then contact us about getting into one of our luxury apartments as soon as possible.
Our units are highly-sought after and don't stay on the market very long. Get the life you've always wanted with apartment homes at The Grand.
Contact our team at The Grand online or by calling (816) 399-2909 today. Don't forget to look at our ebrochure, media gallery, and 3D tour online, as well!