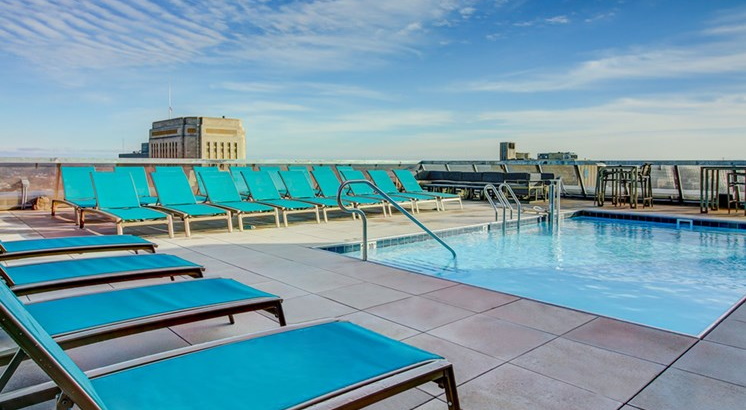 Spend Your Summer At The Grand
This summer is the perfect time to go outside and enjoy the beautiful weather with your family, friends, or pets. Not sure where to spend your time this summer? From our rooftop pool to community events, The Grand has everything you'll need for a fun and relaxing day or night. Our luxury apartments in Kansas City offer a variety of outdoor activities for all your summer needs.
Highest Rooftop Pool in KC
When looking for apartments for rent, a luxury complex with a pool is perfect for summer. Not only does The Grand have a stunning pool, but our pool is the highest rooftop pool in KC! You get a breathtaking view of the Kansas City area that's hard to find anywhere else. In addition to our beautiful swimming pool, we also have a grilling area as well as outdoor TVs so you can enjoy your favorite shows and sports games without having to leave. Our sun deck and lounge area are great places to relax and hang out with your friends this summer.
Dog Park for Your Pet
We know that living in the city can be hard when you have pets. They need to be taken out and spend time in the sun just like we do. That's why we offer a dog park on our second floor! Our private outdoor park allows you and your pets to both be happy without having to travel far out of the city or stray too far from home. We even have a paw spa to make sure that your pet is always feeling pampered and looking fresh.
The Grand is a pet-friendly apartment community that provides a wonderful place for you and your pet to live. Pets are known to improve your physical health and mental well-being. They also ensure a more active social life and lower stress at work. With all these benefits, we understand why you would want to have a lovable companion to greet you upon your return every evening. The Grand believes that pet-friendly apartments are an important part of life.
The Grand Pet Policy allows for two pets per apartment home and we do not have breed restrictions. There is a one-time $300 pet fee and $25 monthly rent per pet.
If you have any additional questions, please do not hesitate to call during our normal business hours to ask about our pet policies and our pet-friendly amenities and community.
Community Events
When looking for luxury apartments for rent, you want to make sure that you don't just love your space but also the people around you. The Grand is an extremely community-focused property. We host several resident events, both on and off the property. Some of these events include happy hours, giveaways, and much more. Here at The Grand, you will find more than just a home, but a lifestyle. In the two years since we first opened our doors, we have seen residents become best friends, couples, and even part of each other's wedding party. Sign a lease to become a part of our community and meet your new best friends.
Want to Stay Indoors?
The Grand apartments in KC don't just have outdoor activities, but indoor ones as well for those of you that like to stay cool and shaded in the summer. Experience our digital sports lounge, get a workout in at our 24 hour fitness center, or grab a sip at our coffee bar. You can even catch a film in our movie theater suite, located in an old bank vault that makes you feel like James Bond.
Move Into Your Next Luxury Apartment at The Grand
Looking for luxury apartments near you? Come experience elevated living at The Grand and all the perks that come along with it. Apply Today to secure your new home or take a 3D tour of some of our apartments and amenities.